Gravity DesignWorks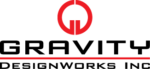 For 19 years Gravity has been growing and we aren't just design. Our services and knowledge have expanded and our continued work with our customers is testament to that. We've heard it many times…"We Love Gravity"
Gravity is Greater Than Design
For 19 years Gravity has been growing and we aren't just design. Our services and knowledge have expanded and our continued work with our customers is testament to that. We've heard it many times…"We Love Gravity"
Good Enough Doesn't Work Here
We were established on the essential belief that above all customer satisfaction is the ultimate achievement of our success. This is the fundamental principle upon which founder Mark Maruska based the company. This conviction is not only to meet the client request but also to exceed their expectations, resulting in not just a satisfied client, but one which is delighted with the results.