Karen Ann Quinlan Hospice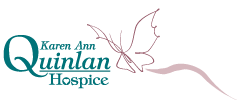 Business Name:
Karen Ann Quinlan Hospice
Long Business Description:
Karen Ann Quinlan Hospice is your local, non-profit hospice, providing community care for over 35 years.
Created by a local family, stemming from their personal tragedy, and started with their own funds.
The hospice is a non-profit agency, with a 501 (c) (3) status. It is governed by the Karen Ann Quinlan Memorial Foundation Governing Board, and is managed by the Executive Director along with a Team of Key personnel and a professional team of nurses, counselors, chaplains, social workers, aides and volunteers who presently serve patients and families in Sussex and Warren Counties, New Jersey, and the Pike County area of Pennsylvania. Hospice service is available twenty-four hours a day.
Tim O'Brien, a reporter for the New Jersey Law Journal, covered the Quinlan story for the Star-Ledger. "Now it is an accepted part of the landscape… [It's] become part of the fabric of society. Ordinary people think about living wills and telling others their wishes about extraordinary means," O'Brien said, "It's talked about openly, not furtively."