Sussex County Community College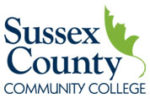 Business Name:
Sussex County Community College
Long Business Description:
Sussex County Community College is special. It is a welcoming and friendly place where you, as a student, are our priority. Here, learning takes place in our well-equipped classrooms, around a naturally beautiful campus, and throughout the community. We offer many of the amenities and advantages of a large institution combined with the unparalleled benefits of a smaller college.
Our class sizes are modest, giving you the opportunity for a quality, personal education where you can really get to know your friendly and caring professors. Personalized career counseling is one of the many services offered to you, and our staff works hard to make sure your education and experience at SCCC yields the result you are looking for.
SCCC is a gem in the heart of Sussex County, New Jersey. Our campus is nestled amidst 167 acres of rolling hills, lush forests and tranquil ponds. Since opening in 1982, the College has grown tremendously in its enrollment, academic and career programs and facilities.
SCCC has become the college of choice for over 2,700 students from  New Jersey, New York and Pennsylvania. Our graduates consistently find employment or successfully transfer to other 4-year colleges and universities for further education.
Whether you're a student, a parent, or a casual visitor, welcome!