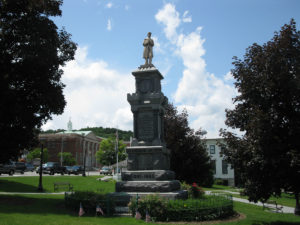 The town lies upon the slope of a gentle hill, of mingled slate and limestone, at whose foot a spring sends forth the first waters of the Paulinskill, the chief river of the county … Some of the dwellings are very neat: the place has an air of business, and there is in fact a very considerable trade carried on with the surrounding country. In healthiness of situation, by the report of the inhabitants, it cannot be excelled.
Thomas Gordon, 1834.
Newton is centrally located in the Kittatinny valley, a broad limestone basin where slate ridges partition the waters of the Paulinskill, Pequest Creek and Wallkill. This old county town rests on the decline of the Great Slate Mountain, overlooking the Big Spring and Paulinskill meadows. A chain of Highlands, extending between the Delaware and Hudson Rivers, forms a barrier to tidewater markets along the valley's southeastern rim. The steep escarpment of Blue Mountains, broken only at Culver's Gap, paint the northwest horizon. The old Easton Road (Route #94) pursues the slope of the ridges along the valley's main axis. It traverses the town along High and Water Streets. The New York Road (Route #206) rises from tidewater at Elizabeth and climbs through narrow gaps in the hills, passing Culver's Gap en route to Milford, Pennsylvania, and ultimately, to the Great Lakes. It enters Newton on Main Street. Another ancient pathway crosses the village between Sparta and Swartswood Lake. For convenience of location, Sussex Court House stands at the hub of this spokewise network of roads, at an elevation of 648.68 feet above sea level.