Join the Greater Newton Chamber of Commerce and our area restaurants for a week of discounted dining!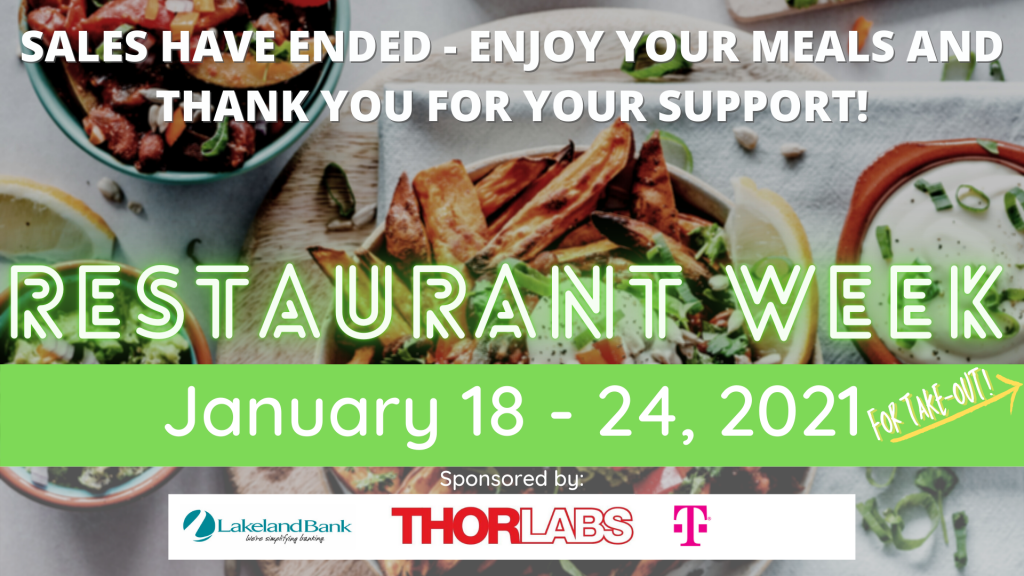 Discounts for You + Support for our Restaurants
Newton • Hampton • Andover • Sparta • Lafayette, New Jersey
Buy one or many vouchers to enjoy a discounted meal! (Makes a great gift, too!)
Simply purchase your vouchers by January 10th, then contact the restaurant directly to redeem your voucher
during Restaurant Week (January 18-24th)!

Click here to Resend your order confirmation with a link to your print your vouchers
(use the Resend Confirmation link at the top of that page)
Here are the meal options you might have selected:
Dominick's: click here to see the options available for Dinner for 2 or Dinner for 4
Hayek's
• Chicken Dinner for 2: Chicken Parmigiana over pasta, served with tossed salad and garlic bread.
• Beef Dinner for 2: Boneless Beef Short Ribs over noodles, served with roasted root vegetables and dinner rolls.
The Lafayette House : click here to see the options available for Date Night Dinner for 2 or Family Dinner & Fun for 4
Mi Rancho Mexican Grill: Parrillada "Mi Rancho" platter: Chicken, Steak, Spicy Pork Steak, Chorizo, Pork Chop, Shrimp, Onions, Jalapeno, 2 Sides of Rice, Beans and a side of Corn Tortillas.
O'Reilly's Pub & Grill
• Dinner for 2: Chicken Murphy (sauteed chicken, bell peppers, onions, hot cherry peppers, and potatoes in a white wine sauce; available spicy or not) with bread and salad.
• Dinner for 4: Our traditional Shepherd's Pie for four with bread and salad.
Spring Diner: Mini sliders, with fries and coleslaw.
Vinny & Son
• Pizza Special: 2 large pizza pies, 1 order wings, and a 2-liter of soda.
• Gift Certificate Special: $50 gift certificate to redeem in-store for a physical gift card or apply to menu items from January 18-24, 2021.